Napa Valley has a distinguished reputation as one of North America's top culinary destinations, touting over 30 Michelin-rated restaurants, six with Michelin stars. But some of Napa's most delectable menus can be found passionately prepared and served up among the chef/purveyors on Napa's food trucks. Found dotted at strategic locations around downtown Napa, at local farmers markets and local events, the options are many, and each rolling epicurean chariot carries high ratings of their own along with many devoted followers. The food and beverage truck vendors played a pivotal role during the coronavirus pandemic when take-out was the only option for restaurants. Most never missed a beat, offering individual plates and family meal kits to nourish and sustain the community. Here are a few that stand out as affordable and delicious options that rival some of the Napa Valley's finest dine-in options.
CLIF FAMILY BRUSCHETTERIA
Those seeking a "farm-to-truck "experience specially designed for wine pairing, look no further than Saint Helena's Clif Family Bruschetteria, introduced in August 2014. Chef John McConnell has created a seasonal menu of culinary delights using ingredients from the certified organic Clif Family Farm and Clif Family Napa Valley Artisan Food Line of purveyors. Choices include a variety of bruschetta and salads, seasonal arancini, potato tostones, and rotisserie-style Mary's Free-Range Organic Chicken. While the truck is usually parked outside of the winery's tasting room so customers may experience the marriage of wines and food, Clif Family sometimes takes the truck on the road to other community locales and events.
MERCADITO FOOD TRUCK
When chef and owner Valentín Atayde was preparing to launch his food truck business, a friend recommended that he "sell what people know." Atayde knew that this would be the less risky route to financial success. However, in his heart he wanted to share the fresh, local food traditions of Mexico City's mercados, indoor markets, as well as the warmth of the Mexican holiday, Día de los Muertos, when families come together to remember those who have passed, "to be with them in spirit, sharing their favorite food, drink, and dessert." Mercadito Food Truck is the culmination of Atayde's dream. On the menu, which changes seasonally, one will discover culinary fare far different than other food trucks. He has established relationships from which he sources his ingredients with local food purveyors such as Sonoma Liberty Ducks, Five Dot Ranch, Long Meadow Ranch, and Salute Santé, to name a few. Popular items are his Duck Confit and Mole Verde, Short Rib Pibil, and Torta Al Pastor. Atayde is one of the few Mexican chefs that offers a daily vegan menu, which includes dishes like Cauliflower Al Pastor Tacos, Flautas de Papa, and Mole Enchiladas.
OHM COFFEE ROASTERS
Founder Derek Bromley and his wife, Jennifer Knight, launched Ohm Coffee Roasters "rock star" beans, coffees, and expresso in May 2016 at the Napa Farmers Market. "We are considered a 'Third Wave' coffee roaster, which means we operate at the craft/geek end of the quality spectrum. We offer uncompromising quality, terroir, and depth of flavor, with judicious use of roast influence to tease out the best in the bean," said Bromley. Ohm is the creative and delicious intersection of Bromley's background as a musician and sommelier. The name of the business, the coffee blends, and even the can design of the Flash Brew, pay homage to Bromley's passion as a guitarist. Ohm's single-origin coffees reveal a sense of place and terroir on the palate, like fine wines. As both a roaster and purveyor of coffee, Bromley did not want a low-traffic, static location, so he chose a mobile alternative, a well-equipped truck to bring his coffees to the masses at a variety of locations. Ohm also has placements in restaurants and retail and offers a local delivery subscription service.
PLATANITO LATIN CUISINE
www.facebook.com/PlatanitoLatinCuisineInc
Owned by Iraq War Marine Corps veteran, Arturo Bibiano, and his mother, María Trujillo, Platanito Latin Cuisine, which fondly calls itself a "Pupuseria" on social media, serves what Bibiano describes as "Mexican-Salvadorian Infusion." The stars of the menu are his pupusas, Salvadorian- style stuffed tortillas, which are naturally gluten-free and available with fillings like beans, cheese, chipotle chicken, chorizo, pork belly, and a vegan option with jack- fruit. As indicated by the name of the truck, Platanito also sells sweet fried plantains, with optional sweetened condensed milk or sour cream, as a dessert. Other menu items include traditional burritos, quesadil- las, and tacos. New customer favorites are Bibiano's shrimp tacos and steak fries.
PHAT SALADS AND WRAPS
For 12 years, Phat Salads and Wraps was Napa's first non-taco food truck when chef Tim Bailey purchased it in 2018 to continue and expand its legacy of serving the Napa Valley's "fast and fresh alternative to fast food." Bailey's 25 years of experience in the culinary world includes starting out as a dishwasher to most recently serving as a restaurant executive chef and a food truck manager. Since assuming ownership of Phat, Bailey has added his twist to the daily lunch menu and added comfort food recipes for pre-order dinner service. As the name suggests, Phat, an acronym for Pretty Healthy and Tasty, serves themed salads, wraps, and soup. Each salad or wrap includes a choice of chicken, steak, or black beans, and can be customized to meet dietary restrictions. His comfort foods include specials such as meatloaf, gourmet grilled cheese sandwiches, burgers, and deviled egg salad. Of special note is Bailey's commitment to donating "Comfort Food for Uncomfortable Times," most recently during Sonoma County's 2019 Kincade Fire and the coronavirus pandemic. When pre-ordering meals, customers also have the option to add monetary donations to supply meals and other support to local charities.
TACOS CHÁVEZ
www.facebook.com/tacoschaveznapa/
Tacos Chávez has served Napa residents and tourists an authentic taste of central Mexico, tacos de cabeza al vapor (steamed beef tacos), since 1972, when founder Pablo Chávez and a former partner began selling tacos part-time at local soccer games and dances. After a job injury in 1975 left Chávez temporarily unemployed, he decided to pursue selling tacos full time. He purchased his first food truck, a 1951 Ford, and grew the business by selling at local events and billiard halls. In 1980, he married María Leonor Chávez Martínez, who became an integral part of the business, creating a signature mild red sauce and preparing the truck for Chávez, who had returned to working in the vineyards full-time. For nearly four decades, Tacos Chávez has used the same method of preparation: the beef, sourced from the Bay Area's Del Monte Meat Company, is steamed for 14 hours with no seasonings or grease. The only menu addition is Chávez's second, spicier habanero sauce. Today, with a replacement truck purchased in 2006 and son Eduardo helping prepare the meat and selling tacos, two generations work in unison to continue Napa's oldest food truck service.
TACOS DON CARLOS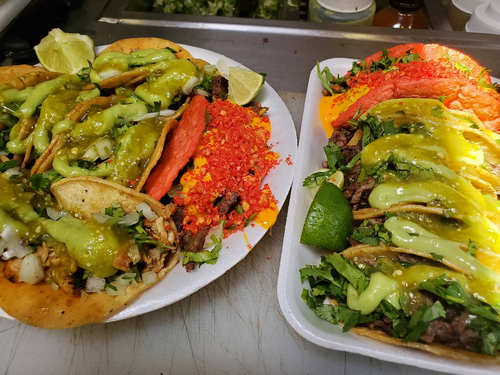 www.facebook.com/Tacosdoncarlos
On May 5, 2020, which happened to be Cinco de Mayo and Taco Tuesday, Carlos Mata and his family celebrated the third anniversary of their food truck, Tacos Don Carlos. To commemorate this occasion and to thank the Napa community for their support, Mata gave away 200 meals, approximately 800 tacos, that day. Mata also donates at least two meals daily to families in need. "We love our customers and love our city. We are with them in the good and bad times," he explained. Mata is most known for his traditional tacos made with proteins like al pastor, carne asada, chorizo, and pollo asado, topped with a choice of guacamole, onions, cilantro, and salsa. Some of the most popular items are his best-selling Flamin' Hot Cheeto Tacos and Cheeto Ritos (burrito), as well as his personal favorite, the Puerco Wrap, a bacon-wrapped super burrito dripping with melted cheese and garnished with cilantro, onions, sour cream, and salsa.
Other Food Trucks and Caterers Not to Miss
Crossroad Chicken
Di Filippo Wood- Fired Pizza
Marks the Spot Fine Food
Southside Catering
Taco Addiction
Article By: Elizabeth Smith