A Wellness Haven for Rest and Relaxation
For those looking for rest and relaxation this holiday season, Calistoga is a true haven for self-care. Calistoga has long been offering a tranquil place for visitors to get away, with deep roots entrenched in wholistic wellness and the belief that the local geothermal mineral waters possess healing powers. Located in the northern end of Napa Valley, and often referred to as the region's quiet mountain town, Calistoga offers a down to earth atmosphere and self-pampering in the form of signature mud baths and mineral hot springs from the local geological wonders.
Calistoga's quiet and restorative Napa Valley vibe is no doubt influenced by the practices of Dr. John Wilkinson, a chiropractor and wholistic practitioner who sought alternative health care treatments for recovery and restoration in Calistoga starting in the 1940s. "Dr. Wilkinson came to Calistoga in 1946, fascinated by the wellness offering springs and mud-bathing tradition. He was ahead of his time, studying alternative medicine and practicing wellness long before these concepts were in vogue," said Avery Winter, Director of Spa & Wellness at Dr. Wilkinson's. A true believer in the healing powers of the local hot mineral water mixed with local volcanic ash, Dr. Wilkinson helped pioneer the now-famous Calistoga mud bath and helped put "Calistoga on the map for its health-giving mineral treatments."
Dr. Wilkinson crafted a proprietary recipe, now 70+ years old, that is still used today at Dr. Wilkinson's Backyard Resort & Mineral Springs located in downtown Calistoga. Although Dr. Wilkinson passed away in 2004, his legacy lives on in Calistoga—both at his resort and in the community that continues to offer the very best in wellness for all who visit.
DR. WILKINSON'S BACKYARD RESORT & MINERAL SPRINGS
At Dr. Wilkinson's Backyard Resort & Mineral Springs, travelers can book an overnight stay to enjoy aromatherapy in their private room and experience the serene hot springs mineral pool waters that are "classified as distinctive, neutralizing, balancing waters with the ability to strengthen skin, balance the peripheral nervous system, reset stressed nervous systems, hydrate, and detoxify," said Winter. In addition to the magic of their stress-relieving hot springs mineral pool, their onsite spa services include their famous mud and mineral baths, and a wide array of massages coupled with Himalayan salt hot stones, aromatherapy, and CBD oils. // www.drwilkinson.com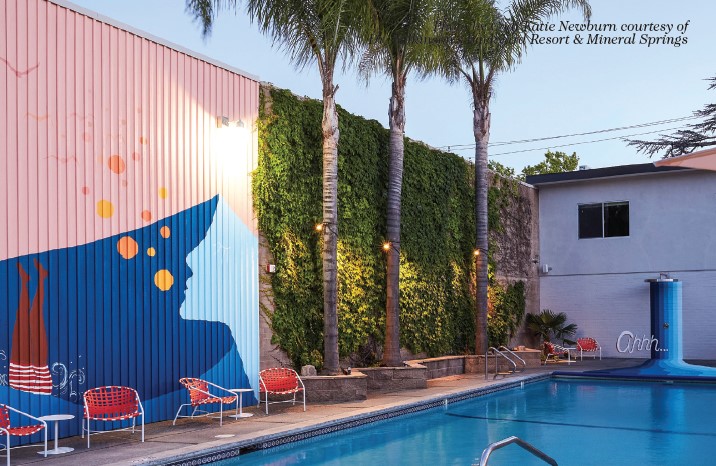 ROMAN SPA HOT SPRINGS RESORT
Roman Spa Hot Springs Resort's "seasonally landscaped gardens, multiple outdoor seating areas and three geothermal pools provide the ultimate oasis to relax and rejuvenate," said Elyse Quast, founder, and CEO of KAIROS, Roman Spa's wine and hospitality marketing team. The full menu of services is sure to provide the relaxation and refreshment that Calistoga visitors seek. From body treatments to mud and mineral baths to massages, guests can indulge in healing and pampering of all kinds. Traditional massages are offered, in addition to a Reiki session, a Japanese-style energy healing technique that aims to reduce stress. Their authentic mud bath is a mixture of local volcanic ash, natural peat, and local hot springs mineral water; the experience includes a 55-minute soak followed by a cool down. Roman Spa also offers a private mineral bath, for those looking to immerse themselves in the hot springs mineral water in a private setting; this 55-minute experience comes complete with a clay mask and sugar scrub. // www.romanspahotsprings.com
INDIAN SPRINGS CALISTOGA
A stay at Indian Springs Calistoga is nothing short of magical. Their Olympic-sized hot springs mineral pool, originally built in 1913, is seductive in the most relaxing way. The 60-minute mud bath ritual includes pure volcanic ash and mineral water from the estate's geysers. Additional services include unique soaks like the pure goat milk and rosemary bath, rosemary soak, and CBD soak. A deep tissue massage offers pain relief, the signature facial provides exfoliation, and the salt glow body treatment is a handcrafted blend of ancient sea salt and essential oils. With an onsite restaurant, Sam's Social Club, and plenty of overnight accommodations, Indian Springs Calistoga is an all-inclusive getaway destination. // www.indianspringscalistoga.com
GOLDEN HAVEN HOT SPRINGS SPA & RESORT

Mud baths and herbal mineral baths at Golden Haven Hot Springs & Resort offer sanctuary-like experiences for singles, couples, and small groups of friends. Their detoxifying mud bath is a mixture of clay, peat, and hot springs mineral water and allows guests to soak for one full hour; this experience also includes a cool compress and a clay face mask, followed by a hot springs mineral bath. The session concludes with a warm flannel wrap, aromatherapy, and the relaxing glow of a Himalayan salt lamp. For guests looking to simply enjoy a hot springs mineral soak, the herbal mineral bath includes natural bath salts and the conclusive warm flannel wrap. // www.goldenhaven.com
Story By: Melissa Vogt