Make No Mistake, John and Stacy Reinert are Enjoying the Ride
With its instant success, it may come as a surprise that Brilliant Mistake Wines was the result of anything other than some sort of blue blood pedigree, the product of wine lovers who grew up in the family cellars and had the winemaking gene in their DNA. To the contrary, this is the story of a label with its provenance founded on trust and intuition, the vision of a married couple who simply loved great wine and wanted to learn about and produce some of their own.
The Brilliant Mistake story had its beginnings in an unlikely place, a Bay Area salon, where Stacy and John Reinert crossed paths in 2009. They discovered a mutual interest in each other and food and wine. As John and Stacy began to develop their relationship, they started visiting the Napa Valley on weekends, exploring the area's scenic charms and enjoying the exceptional food and wine found there. Stacy has a love of cooking, enjoying meals with family and friends, and John is a self-educated wine enthusiast, inspired by stories of Napa Valley vintners. The couple started attending Napa Valley wine events and enthusiastically immersed themselves in the food and wine scene. Their curiosity about making wine resulted in conversations with local winemakers, about their processes and how to go about getting a small wine enterprise started. In the midst of this adventure, in 2011, John and Stacy got married in the Napa Valley.
"Napa is a great place to become inspired," John says. "It is a very romantic place, so beautiful, almost Zen-like, and over a glass of wine, an incredible meal, and great conversation you can fall in love…and maybe even decide to start a winery." On one of their visits, John and Stacy had the good fortune of befriending Didier Loustau and Susan Quinn, founders of Tout Suite Social Club. Through this connection, they met and got to know many talented local winemakers and vintners, including, Juan Mercado, Russell Bevan, Benoit Touquette, Barbara and Sheldon Richards, Aaron Pott, Brian and Lori Nuss, Josh Phelps and many others. As they started thinking about starting their own winery, they would hear stories about successes and failures in the industry and they were grateful for the openness some of the winemakers and vintners offered them, trying to steer them in a direction that would allow them to fulfill the vision they had for their winery.
"We really enjoyed the wines produced by Realm Cellars and we had the opportunity to meet with the founder,Juan Mercado. He offered us some really good advice," John says. "He told us to start slowly, promote the brand effectively, have a memorable name, source the best possible fruit, focus on Bordeaux-style varietals, continue to make connections and, most of all, enjoy it."
In late 2012 John and Stacy decided to go forward with the winery and began sourcing grapes in 2013.
"I don't think I saw it coming in the way that it happened, but it felt like it was the right plan. When we decided to make the wine we thought, as long as we make something we really like, then we can't fail and it won't be a mistake."
Rebekah Wineburg created their 2013 vintage, but after one year she moved on to another winery and recommended winemaker Maayan Koschitzky to John and Stacy. Koschitzky had an enviable pedigree, previously an assistant wine- maker for some of the area's most sought after labels, like Screaming Eagle and Dalla Valle, and is the Director of Winemaking and partner at Philippe Melka's wine consulting firm Atelier Melka.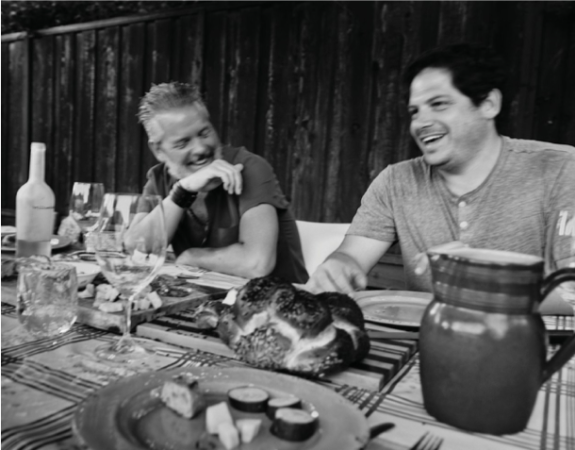 "Beyond the pedigree he brings to Brilliant Mistake, Maayan also has a unique voice," John explains. "He wants to make a wine that represents the place the grapes come from, but he also wants to make a statement about what can be done when every aspect of the process is taken into consideration, from the vineyard to the cellar. Our wines are bold and direct. And we want consistency in quality from year to year. Having Maayan assures us, and our customers, that they will be purchasing or collecting a wine they will be proud to have in their cellar." In addition to his winemaking expertise, Koschitzky's relationships with top growers provide access to some of the top vineyards in the Napa Valley.
"Our passion for making wine was something that just grew and grew," Stacy says, "and as we talked about having our own label, it just became more and more inevitable."
The 2016 Brilliant Mistake Cabernet Sauvignon is an extremely elegant vintage, even for a relatively young wine, and received consistent ratings of 95 or more in the wine press. Lisa Perrotti- Brown, writing for Robert Parker, gave the wine a 96+ and described it this way: "The 2016 Cabernet Sauvignon is a blend of 90 percent Cabernet Sauvignon, 5 percent Petit Verdot and 5 percent Cabernet Franc. It has a very deep garnet-purple color and features beautifully youthful, vibrant black cherries, blackberries and red and black currants scents with wafts of kirsch, lilacs, roses and red soil plus a touch of crushed rocks. Medium to full-bodied, stunningly elegant and well-poised in the mouth, it has a very sexy frame of plush tannins and a fantastic perfume pervading the very long mineral-laced finish. A monumental success this year, this wine proves that mistakes are not just a necessary part of continual improvement, occasionally they can be absolutely inspired. Bravo!"
In 2016, John, Stacy, and winemaker Koschitzky decided they needed to add to their portfolio. "Stacy is a big fan of Sauvignon Blanc and we had an opportunity to get some quality grapes for our first white wine," John says. It was also the vintage that gave Brilliant Mistake bottles a distinctive look. "We decided to try a process, an acid bath treatment that frosted the glass. We sourced Bordeaux bottles and tried this process, and it's one of the things that gives us a unique shelf appeal that people really like. It's another process, another step, but we think it's worth it."
The Brilliant Mistake 2017 Sauvignon Blanc Napa Valley was released in a quantity of 100 cases and was acclaimed by Lisa Perrotti-Brown for Robert Parker, noting it "bursts forth from the glass with vibrant scents of ripe peaches, apricot tart and honeyed pears with touches of orange blossoms, coriander seed, and beeswax. Medium-bodied with a fantastic line of freshness cutting through the intense stone fruit layers, it finishes with great length and depth. Rating: 93+ points." As the label began to develop a following, John and Stacy started looking for ways to promote their brand and decided to join the Napa Valley Vintners. Through this new association, they donated a five-case lot of Brilliant Mistake Cabernet Sauvignon for the 2017 Premiere Napa Valley (PNV) Wine Auction. "We were trying to find ways to get our name out there and that live auction brought in $30,000.00 for that 5 case lot. That blew us away," John recalls. "We were excited and wondered what had just happened. It turned out that the buyer loved the story; they liked the look of the bottle and label and loved the wine. Maayan did a great job with that lot."
The next year Brilliant Mistake was involved in the organization's online auction and got the same enthusias- tic response. "Thinking we wouldn't be able to repeat that success the next year, we entered a five-case lot in the 2018 Premiere Napa Valley Online Auction and that lot went for $17,500.00, which is a record for an online lot at PNV," John says. These strong showings at both the 2017 and 2018 Premiere Napa Valley Wine Auctions put the wine world on notice that John and Stacy and their Brilliant Mistake vintages were serious contenders and to be reckoned with.
"We're coming at this a little left of center, or outside the box," John says. "We have tried to approach establish- ing the brand in an artistic, storytelling kind of way that reflects how our relationship with each other has developed. We are living this dream, yet we're directing the narrative as it relates to our wines and the brands look and feel. It has to be different, and really stand out as there are so many great wines and stories out there. We're also trying to take advantage of any resources avail- able to get that story out to establish our presence in the wine industry while staying true to our vision."
Brilliant Mistake recently added a Reserve Cabernet Sauvignon to their portfolio called The Poet & The Muse. The Poet & The Muse will be a very limited production wine, fifty- five cases, aged for approximately 30 months in French Oak barrels. Down the road, Brilliant Mistake plans to introduce another label to their port- folio, calling it 'When She Was King'. "For me, everything that I've done with this brand/winery is inspired by Stacy. She's my muse, she motivates me and she is a strong, passionate and caring individual who I really admire as a person," John explains. "All of the brand names that I've come up were inspired or have something to do with her, or the strength of the female, as is the case with When She Was King."
"We also like the idea of having several seasonal releases in the spring, summer, and fall, as it keeps us relevant throughout the entire year, as opposed to having just a single release," Stacy says. A future goal is to open a tasting room in Yountville or St. Helena.
For now, things are pretty much right where they want them, developing the brand organically, each step of the way a natural increment in a process that they hope will be a long-lasting and highly satisfying venture. "The way this has happened has seemed very organic, almost serendipitous, and we were for- tunate with the people we worked with and the grapes we source," Stacy says. "John and I try to meet all the people who support our wine, and if they come to Napa we're always open to meeting and tasting with them,"
"A person's worth is often measured by the risks they take in life," John says.
"We're enjoying the ride and the risk, enjoying the whole experience. We feel like we're growing at the right pace – taking our time and not rushing decisions. We do appreciate the support and advice from all of the vintners that we've met, and we really couldn't do this without all of the people involved in the day-to-day, such as Aurelien, Ellie, Brett, Scott and the crew at Eleven Eleven Wines, Chris, Kylie, Melissa, Andrea, Jennifer, Alicia and the staff at M7 Wine Solutions, Angela, Lauren and the folks at ACME Fine Wines who champion our wines along with so many other amazing brands, Tyson, Ned and the staff at Offset Commerce, and the "family" we have at our home bases of Bottega Restaurant and Brasswood Restaurant. So many people are involved in helping a brand grow, and all of these people mean so much to us. We've been very fortunate in the success that we've had so far, but we're by no means satisfied."
FOR MORE INFORMATION
brilliantmistakewines.com // 707-363-4014 // john@brilliantmistakewines.com