BEST Bar/Cocktails
Goose and Gander
707-967-8779 • goosegander.com
1245 Spring St., St. Helena
Goose & Gander maintains its status as one of St. Helena's hidden-gem hangouts. Its seasonal menu complements a great selection of wines, beer, and retro-fresh cocktails. Guests and locals partake in the Whiskey Bar or outdoor bar garden, which offers pop up specials and live music in the summer on weekends.
Coles Chop House • 2nd (tie)
707-224-MEAT • 1123 Main St., Napa
Farmstead at Long Meadow Ranch • 2nd (tie)
707-963-4555 738 • Main St., St. Helena
Sky & Vine at Archer Hotel • 3rd
707-819-2490 • 1260 1st St., Napa
BEST Outdoor Dining
Auberge du Soleil
707-963-1211 • aubergresorts.com
180 Rutherford Hill Rd., Rutherford
Enjoy both fine dining and casual French bistro fare while taking in the spectacular panoramic views for miles around from the expansive terrace. Start with an appetizer to share, such as fresh oysters on the half shell or smoked salmon tartine, or delight your palate with classic entrées such as dayboat scallops or Prime New York Steak. Handcrafted cock- tails and a formidable wine list are available to quench a thirst or pair with either menu.
Bistro Don Giovanni • 2nd
707-224-3300 • 4110 Howard Lane, Napa
Farmstead at Longmeadow Ranch • 3rd
707-963-4555 • 738 Main St., St. Helena
BEST Dog-Friendly Hang Out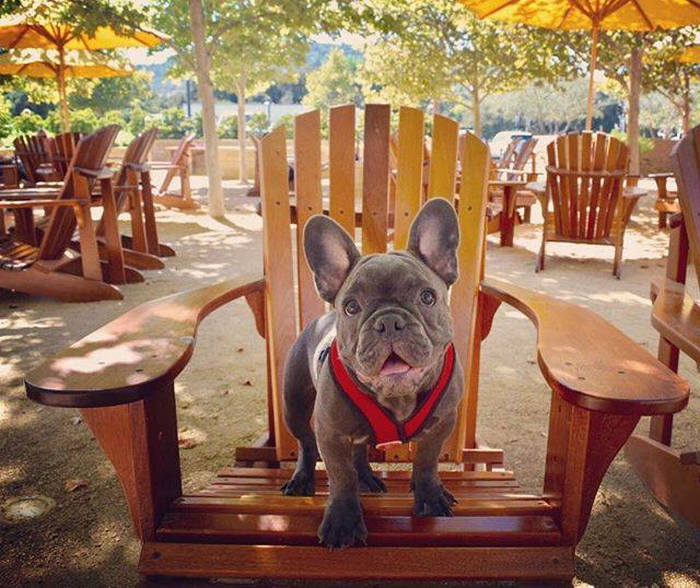 PR + D Kitchen -Patio
707-945-0920 • 6795 Washington St., Yountville
R + D Kitchen in Yountville is one of Hillstone Restaurant Groups' flagship lo- cations. Known for its flavorful California fare, it's specialties include fresh sandwiches and sushi. An expansive patio is a great place to hang out and enjoy a limited version of the menu or enjoy libations from their bar menu. Adirondack chairs and fire pits are popular for relaxing with friends with two legs or four.
Peju Winery • 2nd
707-963-3600 • peju.com
8466 St. Helena Hwy., Rutherford
Gotts Roadside • 3rd
707-224-6900 • gotts.com
644 1st St., Napa
BEST Golf CourseSilverado Resort
707-257-0200 • 1600 Atlas Peak Rd., Napa
silveradoresort.com/napa-valley-golf
Challenge yourself on a championship course, surrounded by Napa Valley's golden hills. Redesigned by PGA Hall- of-Famer and Owner Johnny Miller – Silverado Resort's two PGA courses offer some of the nation's best golf. Access is limited to members and resort guests, promising an exclusive day on the links. Grab your clubs and enjoy an all-time classic golf experience.
Napa Valley Country Club • 2nd
707-252-1111 • napavalleycc.com
3385 Hagen Rd., Napa
Eagle Vines Golf Club • 3rd
707-257-4470 • 580 S. Kelly Rd., American Canyon
BEST Jewelry Store
Napa Valley Jewelers
707-224-0997 • 1300 1st St., Suite 365, Napa
For over 25 years, Napa Valley Jewelers has been providing the Napa Valley area with a personalized shopping experience offering a wide array of jewelry, unique pieces crafted from precious metals and gems, as well as stunning creations of art made from glass. Napa Valley Jewelers exceeds expectations by delivering exceptional customer service and offering their clients a variety of options that will suit anyone's budget.
Creations Fine Jewelers • 2nd
707-252-8131 • 3341 Solano Ave.
Padis Jewelry • 3rd
707-963-2288 • padisgems.com
1269 Main St., St. Helena
BEST Wine Country Event
BottleRock Napa Valley
Napa Valley Expo, Napa • bottlerocknapavalley.com
Entering its 9th season, BottleRock paused in 2020 due to the coronavirus pandemic. Each year, 120,000 concert goers flood downtown Napa to partake in the four-day festival that features some of the world's greatest bands and showcases Napa Valley's best food and local wines. Produced by JaM Cellars, the event proudly wears the crown for sharing the best of music, wine, food, and beer with Napa. Whether concert-goers are rocking to one of their many Grammy- award- winning, live music performances or indulging in their culinary stage, BottleRock is by far one of the most unique, entertaining experiences in the entire Bay area. BottleRock 2021 is currently scheduled for Labor Day weekend.
Safeway Open • 2nd
Napa Valley Porchfest • 3rd (tie)
Auction Napa Valley • 3rd (tie)
BEST Hotel/ ResortSilverado Resort
1600 Atlas Peak Rd., Napa
At Silverado Resort, there is something for everyone. The award-winning property (which also took #1 for Best Place to Play Golf) is a travelers delight. Along with guest rooms and private villas, the property offers tennis, a beautiful spa, and a sumptuous menu from Chef Rodrigo Cuadra, who is well known for his weekly wine and food specials—conveniently located right off of Silverado Trail.
Auberge du Soleil • 2nd
800-348-5406 180 • Rutherford Hill Rd., Rutherford
aubergeresorts.com/aubergedusoleil
Archer Hotel Napa • 3rd
855-437-9100 • 1230 1st St., Napa
BEST Shopping for Women
BoHo Lifestyle
707-337-5870 • 1012 First St., Napa
Boho Lifestyle is not only a store; it's a feeling. The popular boutique on Napa's busy First Street carries hip, affordable local clothing, shoes, hats, and lots of gorgeous jewelry and accessories that are diverse, affordable, and always on- trend. Their friendly fashionistas are happy to assist with style ideas for any occasion.
Helen Lyall Clothes for Women • 2nd
707-252-7400 • 650 Main St., Napa
Makers Market at First Street • 3rd
707-637-4637 • 1300 1st St., Napa
BEST Shopping for Men
Williamson & Co.
707-224-5284 • 1144 Main St., Napa
Located in Napa for over 40 years, Williamson & Company specializes in updated traditional looks for men. With a unique mix of casual and dress, a man can shop for all occasions in a relaxed, boutique-style setting. For quality clothing to dress the man who likes to look good, Williamson & Co. delivers.
Scott Lyall Clothes for Men • 2nd
707-255-5858 • 614 Main St., Napa
Marios Napa Valley • 3rd
707-963-1603 • 1223 Main St., Napa
BEST Day Spa/Salon
Meadowood Spa
877-963-3646 • Meadowood.com
900 Meadowood Ln, St. Helena
The Meadowood Spa is all about relaxing, wellness, and serenity. It's been recognized by Forbes with the Industry's highest award of Five-Stars three years in a row- the only one that has earned this prestigious award in Napa Valley. Due to the Glass Fire and the pandemic over the course of 2020, portions of the Meadowood complex may be under reconstruction or renovation. Check ahead for updates and availability.
Spa Solage • 2nd
707-226-0800 • 755 Silverado Trail, Calistoga
aubergeresorts.com/solage/spa/
Auberge Spa at Calistoga Ranch • 3rd (tie)
(under renovation)
866-484-8829 • 580 Lommel Rd., Calistoga
aubergeresorts.com/calistogaranch/
Spa Terra at Meritage Resort • 3rd (tie)
707-251-3000 875 • Bordeaux Way, Napa
meritagecollection.com/meritage-resort/spa
BEST Cultural Venue
The CIA at Copia Museum
707-967-2500 • 500 1st St., Napa
Presented by the Culinary Institute of America, The CIA at Copia is a gathering place to "Feed Your Joy." Located in the heart of Napa's Oxbow District, the cultural foodie can take in entertainment, educational, and food-centric events. Whether it be creating a menu in a hands-on cooking class, attending an educational seminar, viewing historical culinary artifacts in the Chuck Williams Culinary Arts Museum, or participating in one of their many food and wine events, The CIA at Copia has all the bases covered. Picturesque, unique, and full of tasty ideas, The CIA at Copia makes any event a truly memorable one.
The Hess Collection • 2nd
707-255-1144 • 4411 Redwood Rd., Napa
di Rosa Center for Contemporary Art • 3rd
707-226-5991 • 5200 Sonoma Hwy., Napa
BEST Wine Tour
Beau Wine Tours
707-938-8001 • beauwinetours.com
21707 Eighth St., E Suite A, Sonoma
With a team of wine-savvy chauffeur tour guides, Beau Wine Tours is consistently rated as one of the region's premier luxury tour operators. It helps that proprietor Thomas Buck has been an avid collector of California cult wines for more than 20 years, as well as a vintner himself. Beau Wine Tour's fleet includes a full bus, luxury sedans, SUVs, sprinter vans, and coaches. It boasts an in-house concierge staff to curate unique itineraries for individuals or groups throughout Napa and Sonoma wine country. No single tour is ever the same.
The Wine Train • 2nd
707-253-2111 • winetrain.com
1275 McKinstry St., Napa
Your Driver in Napa • 3rd (tie)
707-337-8943
Platypus Tours • 3rd (tie)
707-253-2723 • platypustours.com
101 S. Coombs St., Napa
BEST Boutique Lodging
Harvest Inn
707-963-9463 • 1 Main St., St. Helena
Set on eight acres of vineyards, this upscale resort is 1.1 miles from downtown St. Helena and 8.4 miles from Yountville's restaurants and shops. Country-chic rooms, suites, and cottages, some with fireplaces, private decks, and whirlpool tubs, offer views of vineyards and the Mayacamas Mountains. Additional amenities include spa treatments, access to a golf club, a cigar program, and an award-winning restaurant on site.
Napa River Inn • 2nd
707-251-8500 • napariverinn.com
500 Main St., Napa
Vintage House • 3rd
707-927-2188 • vintagehouse.com
6541 Washington St., Yountville
Poetry Inn • 3rd
707-944-0650 • poetryinn.com
6380 Silverado Trail, Napa